All New Audi A6L National Launch
The Audi A6L is the most important car for Audi in the biggest car market in the world. In 1 months' time, we had to come up with the entire stage setup and show production creative. This was all happening at the same time as creating the entire shows content. We Lead multiple teams to make this show happen and it was a amazing amount of work that was done in such a short time.
The setup was designed by kaism @ SBF and included 140-meter-long 7-meter-high wrap round led screen, rising kinetic platforms, 2 axis motion controlled car turntable. 16X 30 K laser projectors and 3 30 watt kvant lasers and a giant kinetic platform for the audience of 500 pax. Under a short time, we were able to pull this off with a massive team. We were honored to create this mile stone launch for Audi.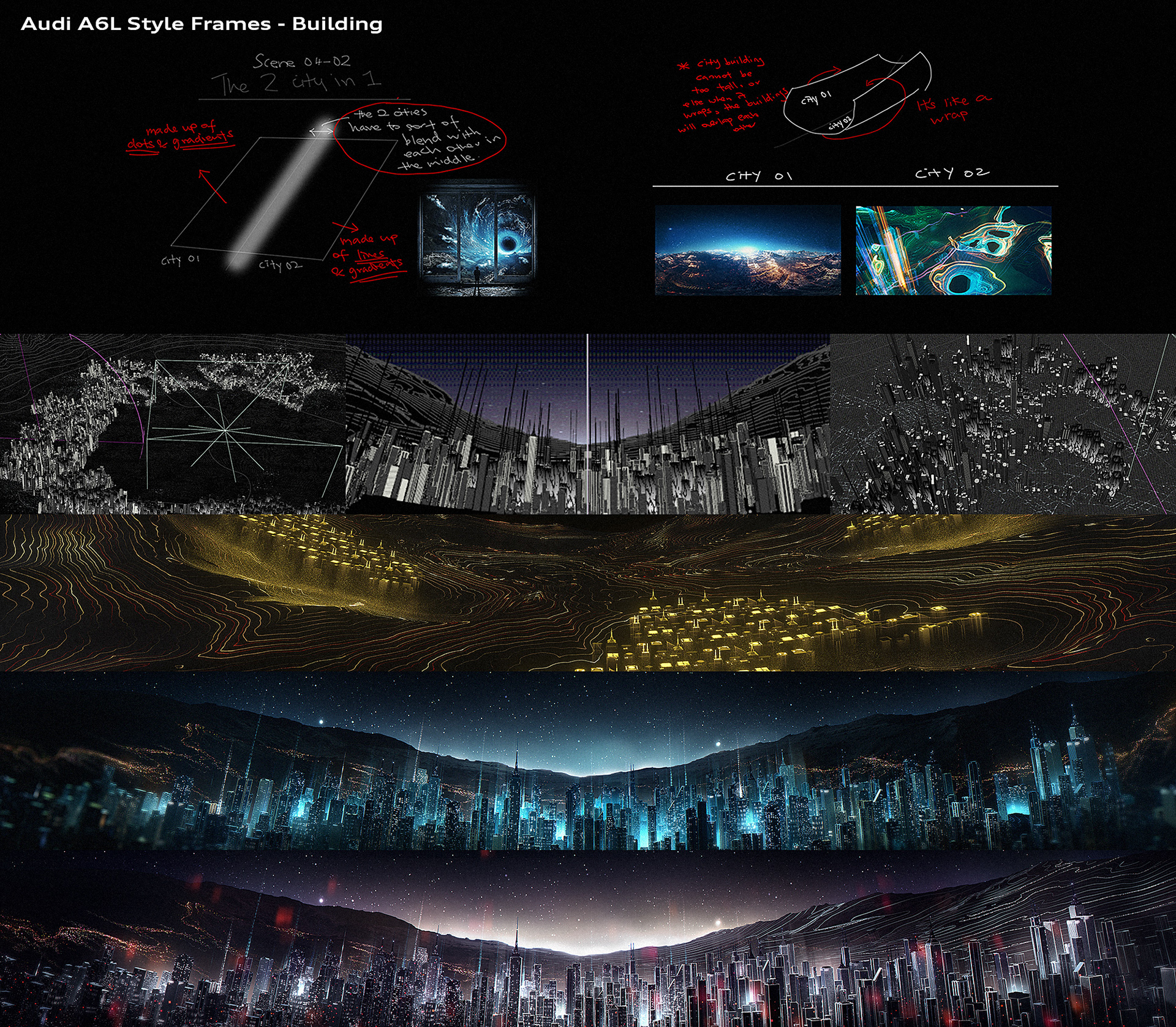 ------ Full Credits

-

-----
Lead Agency – Hi Team, FF Extrodinary Group
E. Producer – Jason Kirby (SBF), Justin Wu
Show Creative, Direction, Concept & Stage Design – Kaism Lim (SBF)
Show Team – Creative Agency
Show Director – Victor Hu, Quinton
Venue Art Director – Li Lei
Stage Design – Zhao Liang
Creative Director / Script Development - Kaism
Producer – Vera Zheng, Shukri Yunos
Assistant Producer – Yin Chen Huang, Sam Chee
Animation Director – DB Gao
Art Director / Style Frames Design – Lock Yi, Anqi
Style Frames Design support – Feng Hang
CG Lead – Nasfi, Denis Sibilev, Fu Kun, Tao Zhi
Lead Compositor – DB Gao, Azhan Karim, Yeu Jian Lim
CG Artist -  Syazwan Nazarudin
Compositor – Matthew Phan, Keat Leong
Laser Team – Totti Chen, ZhiFeng Jia
Music Production Producer – Stefan Z
Music Composer & Sound Design – Alex Kringer
A6L Product Film Editor – Lumi
Production Partner – Tenline Studio
Radugadesign Team – Tech Show
Creative Director – Ivan Nefedkin
Account Manager – Elizaveta Golokhvastova
Art Director – Sergey Voronov
Supervisor – Evgeny Bespalko
Motiondesigner - Radugadesign
Sound Design – Aleksandr Zaripov
Another creative & production work from SBF with our partners Tenline studio & our honor to work together with Radugadesign.