AUDIBLY POWERFUL - ELECTRIC FINDS ITS VOICE
2022 All New Mercedes AMG-EQS 53 4MATIC+ VIRTUAL LAUNCH
Generate A Completely New Driving Sensation
The all-new Mercedes AMG –
EQS 53 4MATIC+ opens the door to the extremely exciting future of AMG Driving Performance. As the first mass-produced high-performance pure electric model of Mercedes
– AMG, in early May 2022, SBF collaborated with agency ACTIVATION to create a virtual launch event for the Mercedes AMG brand that was an immersive experience lasting more than 8 minutes.
SBF was responsible for Creative Planning, Design, Launch XR Production and post-production. We shot in Beijing 717 XR Space together with our partner SHOW PLUS team.
23-foot telescopic arm and LF camera were used in combination with Unreal Engine and disguise RX and VX servers and render stream to make the scene completely immersed in between the virtual and physical world in real-time. We created an experience for all the senses.
From the first review of the AMG 55th anniversary saga to a VFX transition of the "Red Pig" in the virtual studio, then to the strong gear of the unveiling moment -  Mercedes AMG - EQS 53 4MATIC+ car reveal, the whole chapter of the launch was well planned and tightly connected.
We took a sound wave as the main element to complement the high performance and strong sense for the unveiling moment
, creating a wild
red world belonging to the Mercedes - AMG EQS 53 4MATIC+. Through shooting techniques to simulate a sense of presence; In the virtual world, the car drove in the vast red rock desert with a powerful strong sense of speed. With the oncoming sound wave, the  Mercedes - AMG EQS 53 4MATIC+ was fully loaded and finally made its debut in the virtual studio.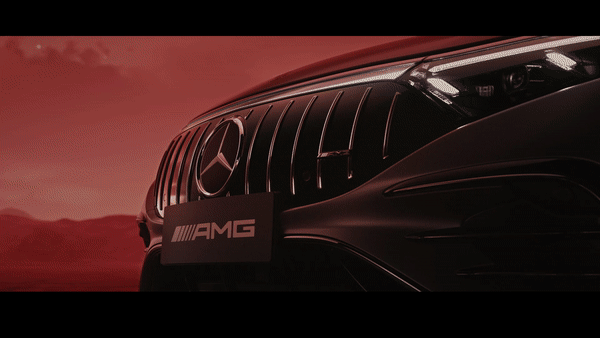 we created dynamic AR augmented reality for different parts for the car presentation, VFX with a sense of high performance and innovativation to meet the design philosophy of the AMG brand, product features and other advantages. A more vivid interpretation of the Mercedes -AMG EQS 53 4MATIC+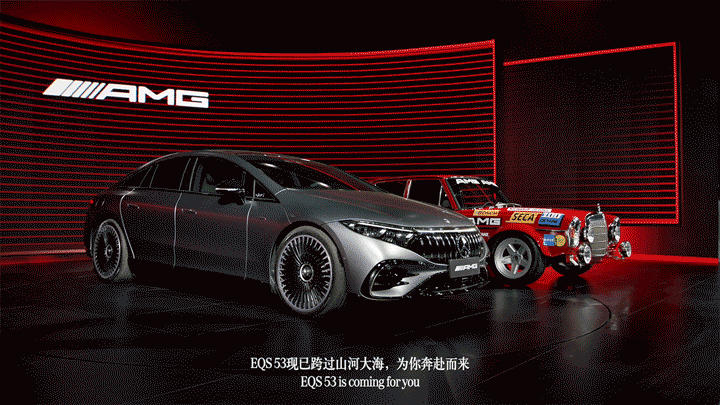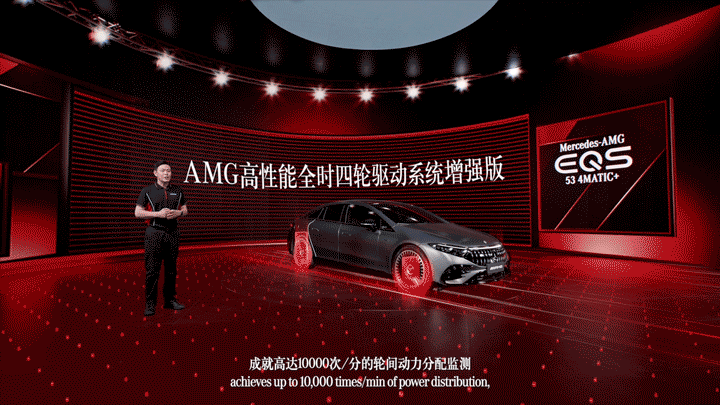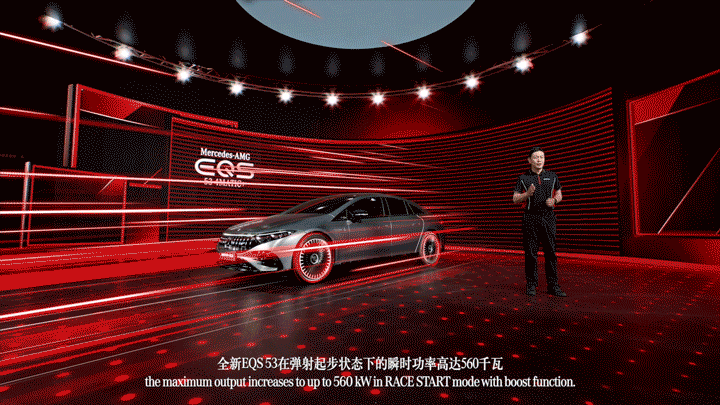 SBF spent a total of fewer than 4 weeks of production time from pre-production, scene designs, and shooting to post-production.
Client: Mercedes - AMG China
Project Management: Charlotte Chong
PRE PR

ODUCTION - Creative/ Content & Scene Development
Creative Director: Kaism Lim
Art Director:Zhao Xiang Li
Style Frame Support: Kaism Lim
Technical Director: David Ran
Line Producer: Da Ming, Liang Zi
Lead Producer: Charlotte Chong
Onsite Producer: Molly Liu
Assistant Producer: Ai An An
Lead Artist: Zhang Min Min
Lead Compositor: Zhang Min Min
Color Grading & Clean Up: Sannai
Produced at Super Bonfire with production support & partners.