SBF was the lead creative for the entire launch set up design and launch concept for the VW ID.4 launch in china. Tasked with creating the next level in launch impact, we created a totally new stage concept with mirror screens and a kinetic ceiling together with a 2000 drone viral stunt to achieve the highest viewership pf a live launch event we have ever done.
"Are you a game changer or just a (fast) follower?"
"ID. is the Game Changer"
At one time or another all great leaders experience something so big and so impactful it literally changes the landscape – it's what we call a "game changer." A game changer is that ah-ha moment where you see something others don't. It's the transformational magic that takes you from ordinary to exceptional.
Game changers are disruptive and innovative. They are more ambitious, with stretching vision and enlightened purpose. They see challenges as kaleidoscopes of infinite possibilities, assembling and defining them to their advantage. They find their own space, then shape it in their own vision. Most of all they have great ideas. They outthink their competition, thinking bigger and different.
SBF believes this is the attitude all elements should follow in our show. And this core idea will be the "red line" in our story telling.
Outthink the competition: Change your future
Outthinking the competition, with ideas that can change the world. Hello ID.!
Disrupt: Change your strategy
Finding your own space, with a strategy that disrupts the future.
Inspire: Change your brand
The New ID. is about people not products, about making life better.
Design: Game Changing design in two forms.
Whilst the electric platform is revolutionary in its self the biggest benefits come from its ability to adapt. The two new ID.4 cars show how this is possible.   
Enable: Change your experience
Delivering customer experiences that enable them to achieve more.
Amplify: Change your potential
Leaders amplify the potential of their people and organizations.
How do we make the ID. brand a game changer?
Worlds first

2000

drone full 3d animated car aerial performance shot with F.P.V drone cameras.
Largest

LED mirror screen

set up using Showtex

"giant mirror" foil
240 custom built kinetic light cubes

controlled by 720 digital winches

"VIBRANT SKY 2.0"
40 Sino stage dancers with choreography by

J.F ( Jackson Wang's choreographer)

for  "pretty please" and  "100ways"
20 custom looks

from fashion designer "Zhang Na" in opening act, as well as for the brand
"HELLO ID." opening act with

Martin Solveig track "hello"
40 visual effect artists to build the custom visuals ad reveal content.
17+K resolution

led stage including walls and floor led.​​​​​​​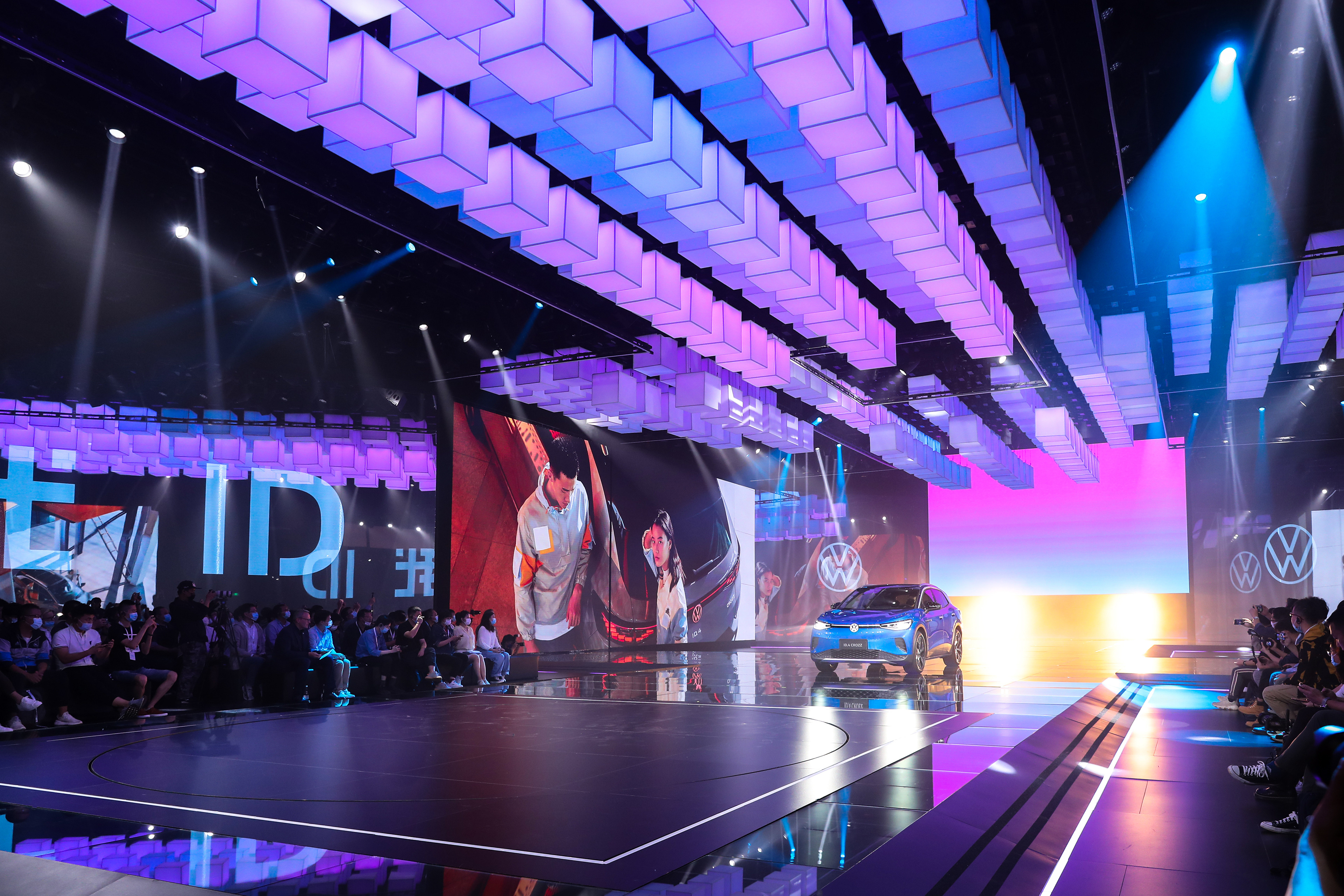 --- Pre Event Highlights ---
--- Stage Concept & Design ---
Client –  Volkswagen Group China (VGC)
Lead Agency - Auditoire
Strategy - Michael Theberath, Ralf Denissen
Campaign Manager - Antoine Gouin
Brand Consultation - Hermann Reil, Daniel Steinmetz, Simon Mayer
Show Director - Ulrike
Mingle Area Art Director - Roger
Project Team - AnnaXing, Joanne
Creative Director - Kaism
Executive Producer - Jason Kirby
Project Management - Vera Zheng
Lead Technical Producer - David Ran
Lead Producer - Radzi Atta
Asst. Producer - Charlotte Chong
German Team Support Producer - Vikki Fang
Logistic - Gao Ying, Shukri Yunos
Show Creative & Script - Jason Kirby
Stage Concept & Stage Design - Kaism
Art Director - Kaism, An Qi
Animation / VFX Director - DB Gao, Madnas
Style Frame Design - Oliver Te, Anna Ching, DaXiang
Design Support - FengHang, DaXin, ZiQing, Ilham, Faiz
Asst. Show Director - Qiao, Wang Fei
Leads - Azhan, Syazwan, Minmin, Yeujian Lim
Compositors - Anna Ching, Mansell, Jun, Oliver, Fukun ,Desmond, Zhenyu
3D Animation - Zuk, Dyson , Xiaogou, Kee , Ziqing
Keynote Support - Leilei, DaXiang
Special Thanks to Acht.Studio Frankfurt (Simon Mayer) & Metadesign Beijing (Sally)
Produced at Super Bonfire Group
Production Partner - Acht Studio, Moving Apes
Produced at Super Bonfire Group with partners (Acht Studio, Moving Apes)