Hongqi Frankfurt Autoshow IAA 2019 - Opening Sequence
A journey through time into the future. We see Hong qi's Vision of a better world. Teleporting our audience through an immersive space, showcasing the brands vision and capabilities to shape the future of mobility. By telling our story through multiple lenses we explore the possibilities of the future in a dynamic and memorable way.
​​​​​​​
---

Treatment & Script

---
VO: To create the future our vision needs to extend beyond the naked eyes perspective.
We Establish a semi abstract china landscape, where Hong Qi's home is. Portraying brand elements with light bringing a new era to the brand itself. Hong Qi's brand vision spreads through crystals refracting into the world. We Gather all visions and ideas into a telescopic lens, bringing the audience into the future.
VO: We build lenses that look forward ahead of time.
The Hong Qi future vision collectively gathers into one, through the telescope lens, our audience enter the future. Utilizing the stage design, working around the audience seating setup, setting up the right axis and space warping techniques of VR production, we give our audience a real-time immersive experience.
VO: Opening new worlds of possibilities that are infinitely connected.
We bring our audience into the future ecosystem of Hong Qi, overlooking how it will be in the future, where Hong Qi through connectivity will advance beyond just mobility.
VO: Effortless mobility is created through a network of connected, intelligent vehicles and infrastructure.
Playing with the stage setup, We are using the multiple axis approach to let our audience feel they are in a futuristic mobility experience. We experience how the vehicle interacts with people and technology within the car.
VO: Creating a brighter future for all today, forever.​​​​​​​
Having technology and mobility is not a single vision. Having a fully functional ecosystem whilst maintaining sustainability is one of the most important factors of human life. We show plants growing with a clean environment and the Hong Qi Smart City in the end.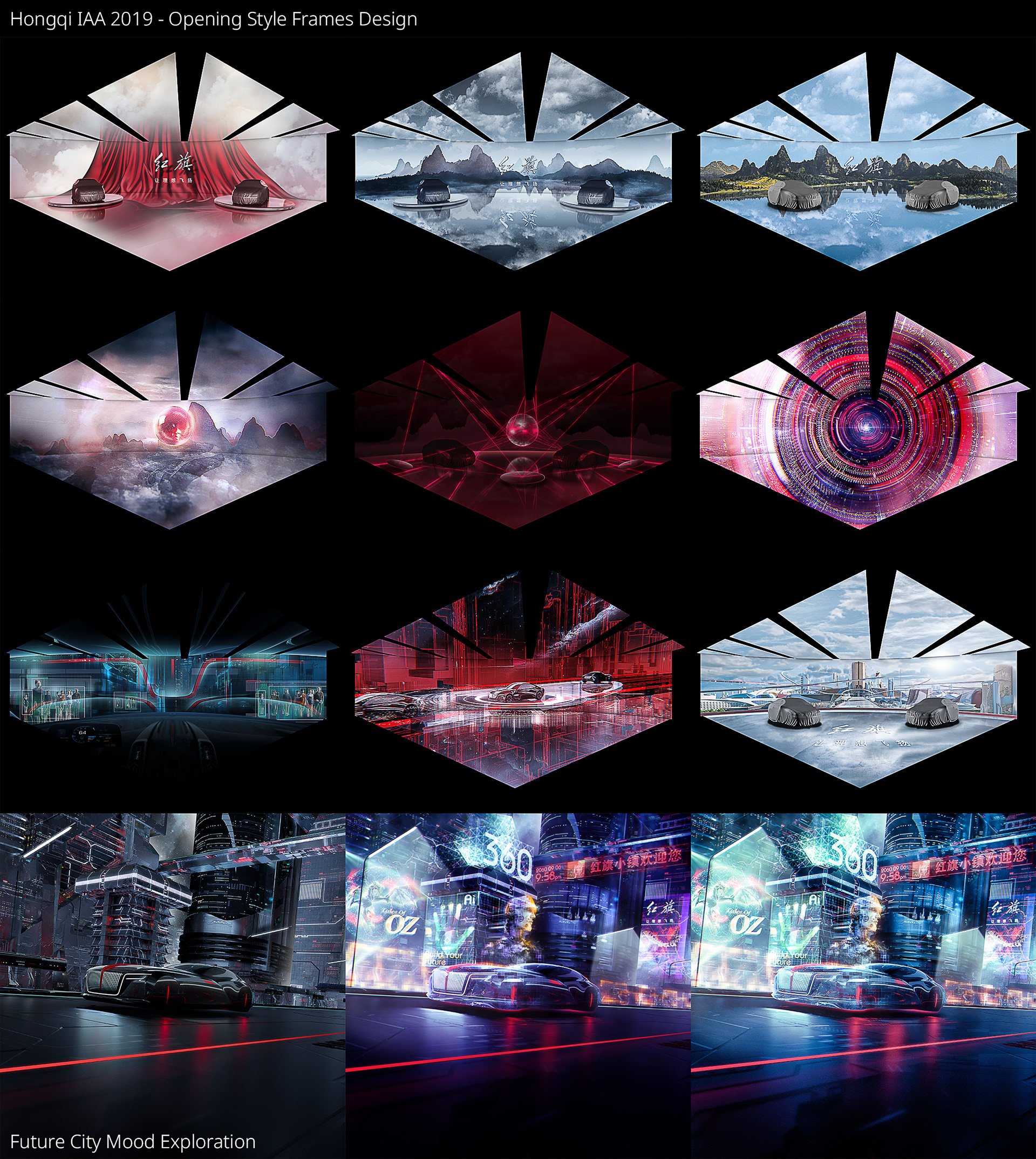 Agency - FF Extraordinary
Producer - Yin Chen Huang
Creative Director - Kaism Lim
Lead Compositor / Edit / Music - Kaism Lim
Asst. Compositor - Lock Yi Chong
CG Lead - Sun Cheng Peng, Ming
Compositor - Min Min Zhang
Asst. Compositor - Xiao He, Fu Kun, Oliver Tee
Asst. CG Artist - Lulu Zhang
Music Composer - Alex Klingle
Music Producer - Stefan Z