2023 Volkswagen ID. Night & ID.7 World Premiere
​​​​​​​
At SBF, we were privileged to have been entrusted with the responsibility of creating the show's creative content and designing the stage for this extraordinary event. Our dedicated team was involved in every step of the process, from pitching ideas and pre-production to delivering captivating visuals on-screen.
We introduced several innovative elements to make the show truly mesmerizing. This included dynamic car choreography, stunning laser and lighting effects, and the seamless integration of real-time Notch effects. To enhance the experience for the livestreaming audience, we also incorporated augmented reality elements.
We successfully delivered the ID.Night project within a span of just eight weeks, demonstrating our efficiency and dedication. As a result, we received highly commendable feedback from our clients and the industry at large. We extend our special thanks to the lead agency, Auditoire, for their invaluable collaboration and support throughout the project.
Our hard work and dedication paid off, resulting in exceptional content for a range of shows throughout the event. Some notable highlights included the world premiere of the first sedan model of the ID. Family, the ID.7, featuring presentations of both the FAW series car and the SVW series close model. We also successfully repositioned the ID. Segment by showcasing the current lineup of ID.3, ID.4, ID.6, ID.7, as well as the impressive ID. Buzz and ID.5 GTX models.
​​​​​​​
Furthermore, our team crafted engaging messages and visuals that seamlessly tied into the overarching theme of the Shanghai Autoshow 2023. We also introduced an updated version of the New Brand Design, giving the ID. Segment a fresh and captivating look and feel.
The show itself was truly extraordinary, featuring projection mapping on a colossal thousand square meter screen on both the floor and backwall. To add to the spectacle, we incorporated two turntables on the floor and two retractable doors on the wall. Our utilization of cutting-edge technology elevated the experience even further, including the implementation of Disguise media servers (including the VX4 and RX2), Unreal Engine for the AR broadcast, and the seamless integration of Notch with the optical tracking system Mosys Star tracker.
Concept & Style Frames Development
This project stands out as one of the endeavors in which we created the highest number of style frames. Fueled by our ambitious nature, we continuously challenged ourselves to generate fresh ideas and engaged in constant communication with the client to enhance the project even further. This iterative process involved the entire team, pushing us to test boundaries and strive for self-improvement. We proudly present the selected style frames, some of which made it into production, while others hold a special place in our hearts and we are excited to share them with you.
Early Concept & Style Frames Development
This event held particular significance for us as it marked our first on-ground show in several years. We brought together a team of immensely talented individuals from various corners of the world, including Beijing, Kuala Lumpur, Vancouver, Germany, Japan, and Istanbul. We are sincerely grateful for the opportunity to collaborate once again with esteemed industry leaders such as Acht Studio from Frankfurt, Taq from Japan, Showplus, Tenline, Goahead Lab from China, and Studio Quasa from KL. Being part of such an incredible event has been an absolute privilege and a source of immense pride for our team at SBF.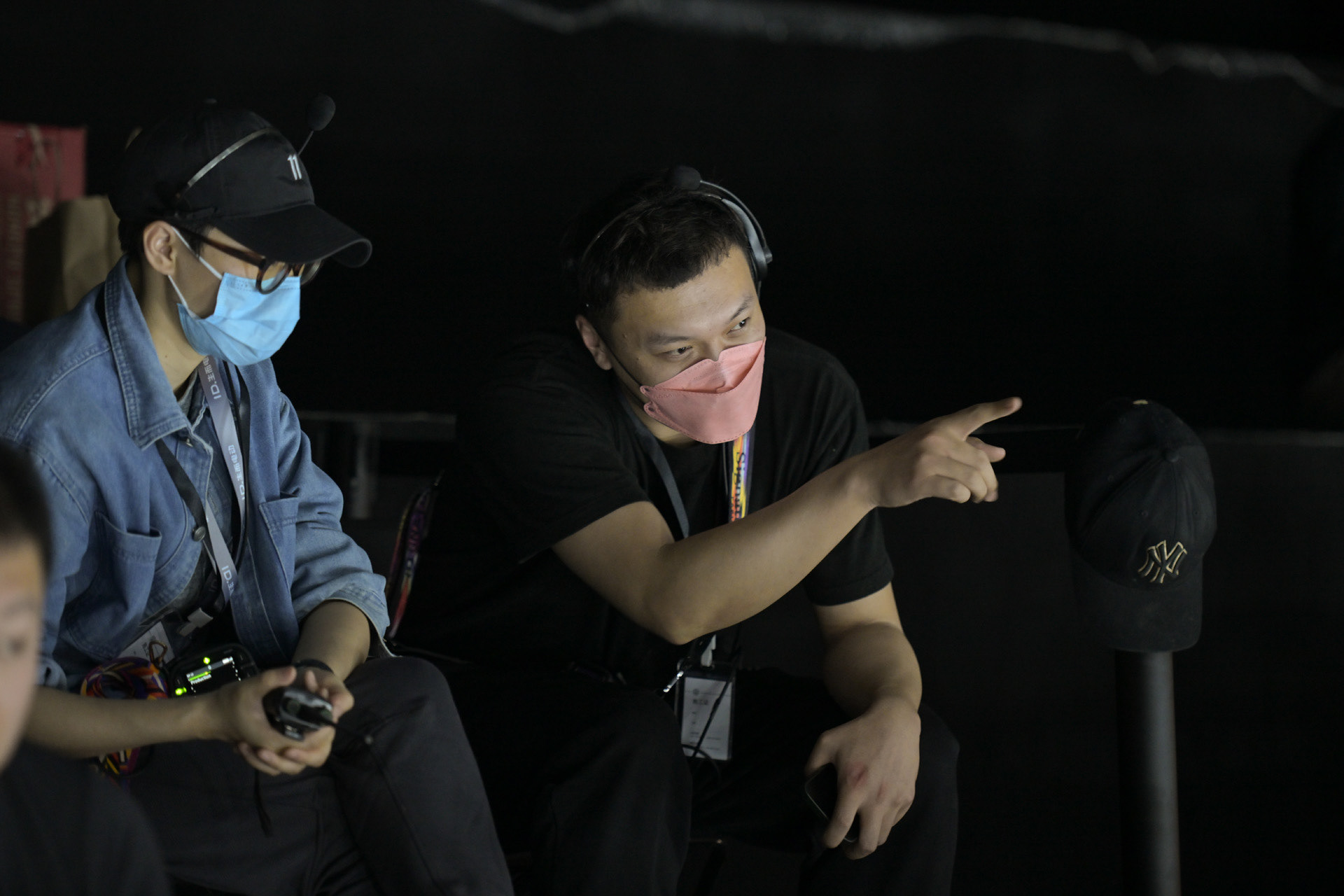 We take immense pride in our work, and we are delighted to have delivered outstanding results that exceeded expectations. The show's success is a testament to the dedication and creativity of our talented team at SBF.
Client –  Volkswagen Group China (VGC)
Project Lead Media Events – Volkswagen Brand: Michael Theberath
Lead Agency & Consultation
Campaign Manager - Antoine Gouin
Brand Consultation - Simon Mayer
Show Director – Ulrike, Mags
Project Team –  Liz, Vera, Nana
Creative Director – Kaism Lim
Executive Producer – Jason Kirby
Lead Technical Director - David Ran
Project Management - Radzi Atta
Lead Producer -  Radzi Atta
Production Producer – Charlotte Chong
Logistic Manager - Gao Ying, Shukri Yunos
Show Creative – Jason Kirby, Kaism Lim
Stage Concept & Stage Design – Kaism Lim
Art Director – Kaism Lim
Asst. Art Director – Busra Bat
Animation / VFX Director - DB Gao, Madnas ,Azhan Karim, Zhen Yu
Style Frame Design – Kee, Zhen Yu, Tao Zi, DB Gao, Azhan, Madnas, Amin
Design Support – Danish, Kevin Staak
Leads – Madnas, Azhan, DB Gao, Zhen Yu, Kee, Tao Zi
Compositors – DB Gao, Zhen Yu, Tao Zi, Kee, Amin
3D Animation – DB Gao, Zhen Yu, Tao Zi, Dong Yang, Kee, Fukun, GML, Hu Yong Nan, Amin,Firdaus
Technical Director – Duke Yang
Notch Designer – Anius, Bauce
Laser and Lighting Animation – Amirul, Zulfadhli
Onsite Support  – Fukun, Yie Soon, Firdaus
Lead AR Programmer – Wang Jian Qi, Hao Chen Guang,
AR Animation – GML, Xiao Wen, Hao Cheng Guang
D3 Operator –  Lennon, May
BTS Editor – Lumi, Xiao He
BTS Photographer – Yang Zhao
Special Thanks to Acht.Studio Frankfurt (Simon Mayer) & Metadesign Beijing (Lim)
Produced at Super Bonfire Group
With Respective Partners - Acht Studio, Showplus, Tenline, Goahead Lab, Studio Quasa.