Volkswagen  ID.6 World Premiere 2021
The ID.6 world premiere was a important milestone for VW. The first full size SUV in the EV line up in the biggest SUV market in the world. SBF together with Disguise put together the largest full led XR studio with a led floor in China. Buy combining unreal engine environments we built together with disguises RX and VX servers with render stream, we were able to fully immerse the VW ID.6 in high resolution real-time worlds and really took the reflections to the next level in the content. Bringing the ARRI LF camera into the XR work flow was a first for us and looked amazing. 
This is just the first step for SBF in developing XR content for our automotive clients and we look forward to pushing the limits of this technology with unreal engine and disguise in the future. 
​​​​​​​
Fully Produced by SBF
​​​​​​​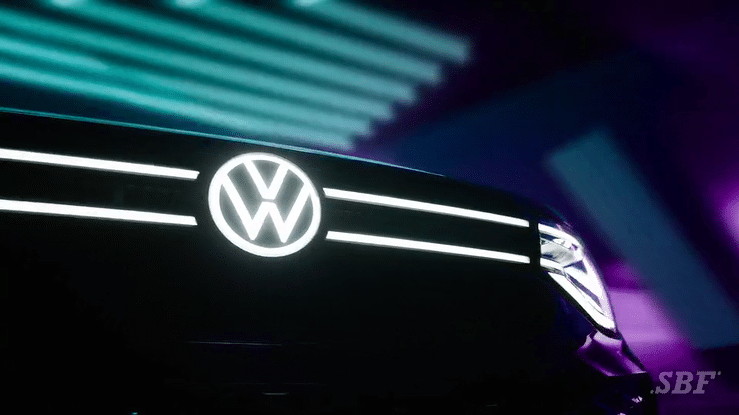 Volkswagen's electric offensive is in full swing and the ID.6 represents the largest member of the company's dedicated EV lineup for now. Available exclusively in China, the purely electric SUV is a bigger brother of the global ID.4, and much like the five-seat-only model, it's available locally in two separate versions.
World Premiere of the VW ID.6
Produced by Multiple Production Team & Studios
Once again, ARRI and MOCO have been incorporated into the XR virtual production process, with the addition of a 54-foot telescopic rocker arm and a track system for film and television shooting, forming a three-position shooting system. Through the use of XR system lens calibration function, 16mm, 25mm, 35mm, 50mm, 75mm, 100mm professional film and television lens, show a more perfect virtual space relationship.
The stage of this setup was installed in the virtual studio of XR Space 717 with a large LED curved screen (267 square meters) in a semi-encircled form. The screen has different curves. At the same time, a sky screen (147.5 square meters) and a ground screen (194.25 square meters) were added as light reflection.
To ensure the accuracy of data, SBF & Show Plus uses laser panoramic 3D scanning combined with manual measurement to build a high-precision scene model with an error of less than 2mm.
With such a small dot spacing LED screen, the total number of pixels is 1,6257 million, which is more than any previous XR setup. In order to ensure the shooting quality and meet the requirements of film and television level shooting, SBF & Show Plus cascaded two Disguise VX4 media servers, and the total output of LED screens reached 28 channels.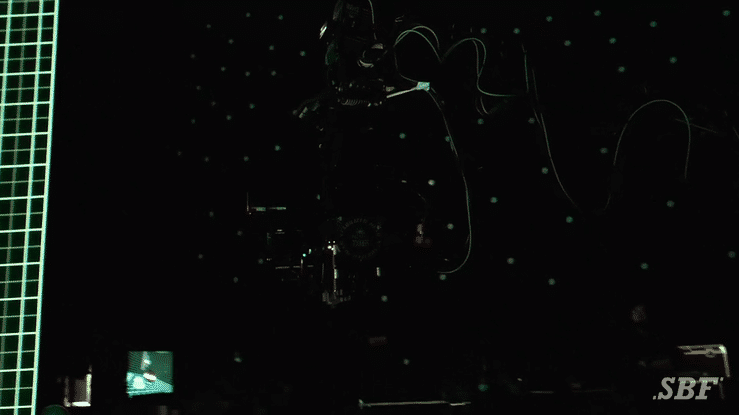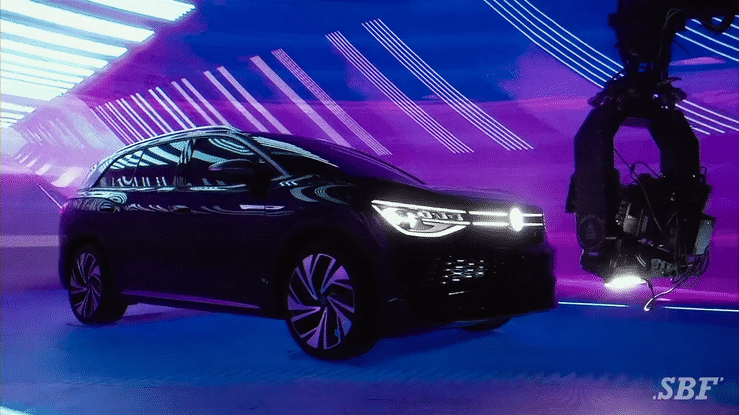 Art Direction & Style Frames Design
Client - Volkswagen Group China
Lead Agency & Main Show Creative - Auditoire China
Initial Show Concept Development - Auditoire, Acht, SBF
Main Show Production -  PIG China​​​​​​​
Main Show Post Production - Fin Design
Main Show Content & Design - Fin Design, Acht Studio
XR Setup & Production - SBF
disguise XR Technical Setup - Showplus
Main Shoot XR Content Production - Acht Studio
Launch Film XR Content Production - SBF
Production Crew (Launch Film by SBF)
E. Producer - Jason Kirby
Creative & Film Director (Remote) - Kaism
Onsite Director - David Ran
Project Producer - Radzi Atta
Unit Production Manager - Da Ming
Onsite Producer - Vikki, Crystal Gao
Post - Production (Launch Film by SBF)
STB, Previz, Edit & Color Grading - Kaism
Art Direction & Scene Animation - Madnas
Animation Support - Oliver Te, Desmond
UE4 Scene Finishing - Bart
UE4 Programing - Hao Cheng Guang
Creative - Kaism, Syazwan
Designer - Xiang, Oliver Te, Min Min, Desmond
Produced with our partners (PIG, Acht, Fin Design, Showplus, APV)
End of list